KOR was formed with a mission to draw on our expertise, provide exemplary service, and solve real estate business problems for our clients. In every commercial real estate endeavor, we strive to exceed your expectations by engaging all the resources of the firm, ensuring process-driven, value-added solutions for your specific goal.
Sean O'Reilly - possesses more than 50 years of combined commercial real estate experience, with their skills honed through tenures at international brokerage firms and development companies. In 2009, KOR was founded with the conviction to offer hands-on, personalized transactional and advisory services to clients. Our fundamental philosophy rests on simplification. To do achieve this, we create customized, value-based solutions by:

Sifting through intricate layers of information that's out there. We believe in the 80/20 rule on information sources. Today's information overload can encumber the decision-making process. KOR filters out 80 percent of background noise before inputting the useful 20 percent to generate alternatives.

Funneling multi-variant factors that affect and define the market, and your decisions, to streamline and focus the real estate process.
Applying sound, realistic financial considerations as well as in-depth analysis to derive straightforward alternatives for our clients' diverse real estate demands.

KOR's team of problem solvers strive to "demystify" complex issues, establish easily comprehensible baseline factors, then produce simple answers. No jargon, just results.



Advisory Services

KOR's expert advisory services center on diligent advocacy for our clients. Thorough evaluation, careful listening and forward thinking combine to generate creative alternatives, strategies and solutions. Our expertise stems from the collective knowledge and experience of our principals and their affiliate professionals.
Tenant Representation
In each tenant representation assignment, KOR tailors a specific process around each client's needs and criteria. With input from members of the client, our firm, plus key subcontractor professionals, together the project team will determine the initial requirements and goals. We then throughout incorporate market evaluation, financial analysis, negotiation and implementation. This systematic, process-driven approach consistently results in the most favorable terms for our clients.
Owner Representation
KOR's owner representation services consist of two main segments: agency leasing and asset disposition. Initially, the team will perform a comprehensive evaluation and assessment of the asset and/or the specific space targeted for lease. Once the team is thoroughly familiar with all the physical aspects of the assignment, we produce a detailed marketing plan to meet the client's goals and objectives. The principals of KOR have worked for major investors, institutional owners and developers to lease up both new construction as well as multi-generational space resulting in significant value creation. In addition, we have served the needs of corporate clients to fill excess space and/or dispose of surplus assets.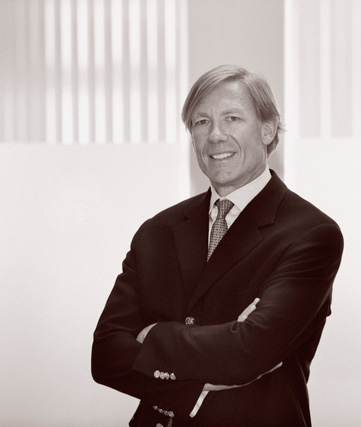 A licensed real estate broker in both Pennsylvania and New Jersey, Sean has built a solid foundation of real estate experience and broad-based knowledge of the business. He began his career in 1984 working with an inner city redeveloper, where he had the opportunity to interact with banks and taxing authorities, and gain a thorough understanding of lien priority via sheriff, tax and judicial sales. Sean also ran his own construction company and built custom homes. In 1987, he entered the commercial side of real estate, becoming involved in the full spectrum of the development process and commercial brokerage. His training includes site selection, subdivision and land development, construction, marketing and permanent finance.

Prior to forming KOR Commercial Real Estate, Sean spent eight years with Cushman and Wakefield as Director. Sean's clients repeatedly leverage his extensive experience in an array of sale and lease transactions. His expertise, understanding of markets and advocacy enable him to negotiate the most favorable terms, either as an owner's or tenant's representative. Sean's client list includes General Electric, Siemens, PNC Bank, Kmart, Sears Logistic Services, Litton Industries, SmithKline Beecham, C&D Technologies, Pharmerica, Simpson Paper Company, State of Ohio and Computer Associates.
A graduate of the University of Colorado, Sean continued his education at Temple University's School of Real Estate.